The origins of the Greyhound go right back through history
but it is commonly known, that the Greyhound became popular in Great Britain around the 9th and 10 century where they became exclusively owned and bred by Royalty for the sport of coursing hares. No "commoner" was allowed to own one. Luckily, this is not the case today!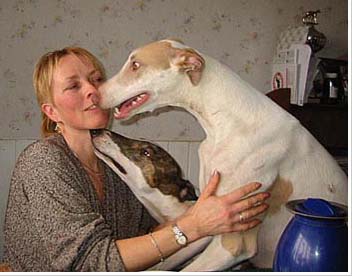 Greyhounds are docile, kindly and sweet tempered dogs.
They love to be the centre of attention, talked to and shown plenty of affection by the owner. They will take possession of
the family's best armchair or sofa - if allowed! They are good with kind and considerate children and many can, from puppyhood, learn to live peacefully together with other animals in the household - even including cats!
They are intelligent and quick to learn, but can also "play up" if things get too boring and repetitive - owners must be clever to hold their interest and only train for short periods and with plenty of tit-bits! They all love and need a chance to run free every day. However, despite what many people assume, Greyhounds do NOT require masses of exercise.
They are sprinter types who, after a short run around in top gear, are ready for lying decoratively on the sofa again.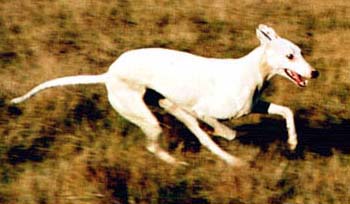 The show Greyhound is a beautiful combination of strength and elegance. with its streamlined slim and muscular body.
Size and weight varies depending on whether it's a small feminine bitch or a well developed dog,
so the height can be from 68 - 76 cm at the shoulder and the weight between 30 - 45 kilos.
In later years, the Greyhound has evolved into two more or less distinctive types:
The racing dog, where breeders only breed for speed, and the Show Greyhound where their looks and beauty are more important. Greyhounds are easy to care for due to their very fine coat.
The joy of owning such a "royal", elegant, sweet natured and loving Greyhound is just as great whether or not you go to dog shows, racing, agility and obedience or just want an adoring, sensitive companion always to be around you.